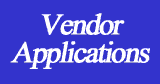 Crafts By The Dock


Acceptance Information


This year's fair will be held Saturday and Sunday, September 8th and 9th, 2018 on Madison St. at Water St. in downtown Port Townsend.

Booth assignments will be made prior to the fair dates when the booth spaces are filled. We do our best to honor space requests with the limited space we have. Booth setup times are Friday after the street has been marked, about 6pm-whenever and Saturday from 7am-10am, with the event opening at 10am. All vendors must be checked in by 9:30am on Saturday and open for business by 10am. After unloading, immediately park your vehicle away from the show area to allow other vendors to unload. DO NOT BLOCK DRIVE-WAYS OR PARK IN PRIVATE LOTS, even for 1 second! Your display must remain open until closing at 6pm on Saturday and 5pm on Sunday or you will not be invited to participate in future shows.

All vendors using canopies must have 40lbs of weight on each leg and absolutely NO spikes are allowed into the ground in any booth spaces (we will be checking). No umbrellas. It can get VERY WINDY here, especially at night. We will have security on site both Friday and Saturday nights, but you must fasten your booth well to prevent damage to your property and to that of your neighbors (you are responsible for any damages). Also, please no dogs in booths.

Parking is on the street away from the fair, in the public lot next to Memorial Field, or in Memorial Field if available. People planning to camp in Memorial field must pay $15 per night. Make checks out to the Port Townsend Arts Guild and we will pay the County. This is Zero-Impact dry camping, so please note: Propane tanks burn grass, if you're using one be sure to place it on a piece of wood. Do not pour stuff onto the grass. Clean up all evidence of your campsite. There are bathrooms on site, and showers can be found at the Port by Safeway.

For lodging packets, please call the Chamber of Commerce at (360-385-2722). Traditional camping is available at Fort Warden State Park (360-344-4400) or at the County Fairgrounds (360-385-1013).

Those planning to use the Port Townsend/Whidbey Island Ferry need to call Washington State Ferries or login to website to check on tide delays and possible reservations (800-843-3779 http://www.wsdot.wa.gov/ferries/).